Watch this space for news and updates.
Full programme now available
Click on the thumbnail below to access the full programme. Alternatively, you can click on this link.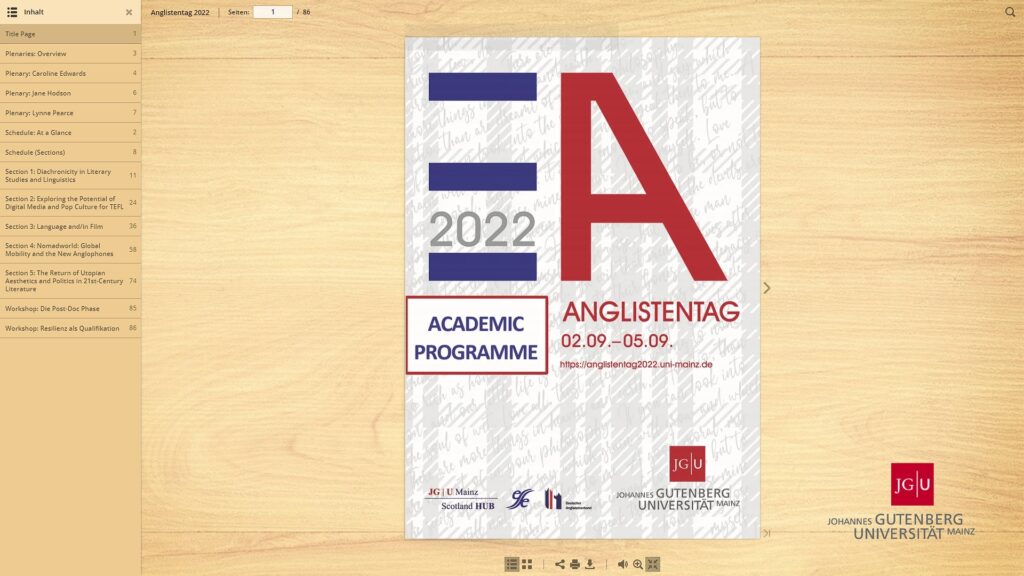 18 July 2022
The registration period has been extended and is now open until 31 July 2022.
A Covid measures page has been added and the About the venue page has been updated with additional information about restaurants on campus and in its vicinity.
12 May 2022
The workshop descriptions for "Resilienz als Qualifikation" and "Die Post-Doc Phase" have been updated. You can find the PDFs on the workshops page.
31 March 2022
The registration page has been updated. You can register for the conference from 01 April 2022 until 31 July 2022.
10 February 2022
Information about the workshops "Resilienz als Qualifikation" and "Die Post-Doc Phase" has been added to the workshops page.
08 February 2022
New additions to this website:
12 October 2021
This is the second time - after 1999 - that the English Department of Johannes Gutenberg University Mainz will host the Anglistentag.
The conference is scheduled a little earlier this year, with a conference warming on 2 September and ending with workshops on 5 September.
Anglistentag and ESSE - broadening perspectives
The Anglistentag has been scheduled for an earlier date since, for the first time ever, the ESSE (European Society for the Study of English) conference will be held in Germany. It will take place immediately before the Anglistentag.
As the organiser of both events, the Mainz English Department would like to make it easy to participate in both conferences. You can combine your registration for both the ESSE conference and the Anglistentag and benefit from a reduced fee.
We are going to merge the ESSE closing event and the conference warming for the Anglistentag, which should make it easy to mingle with our European colleagues.